DelenarTD: Remastered is the newest release in the DelenarTD lineup. We have added many new features, add mob spells, completely revamped art, rebalanced the game, and in doing all that we also reduced the total disk space and resources required for the game. Because of this the game contains all 54 levels that have been created in the Delenar universe!
Features
54 Unique Levels
11 Unique Towers
5 Tower upgrades
14 Unique Mobs
8 Unique Mobs spells
3 Damage Shields
4 Pathing Tiles
5 Different portals!
Star Ratings
Daily Challenges
Online Highscores
Multiple Start Points for mobs
Endless Mode For every level!
Find DelenarTD:Remastered  in the Windows Phone Store here.
GamesWithFriends is here!
GamesWithFriends is a game where you play Minigames and compete with others! The mechanics are a cross between Wordament and Taptitude.
First everyone receives the same Minigame, with the same pattern, from the server. Next everyone plays the Minigame. And Lastly scores are compiled and shared.
The games are fast, and the competition is great! We currently have 15 Minigames and more are on the way!
Join us in playing the next great competition game for Windows Phone!
Scan the QR code below or click Here to download the game.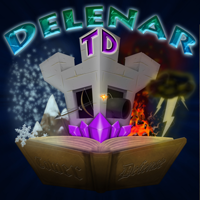 DelenarTD is a FREE Tower defense game in which mobs have buffing spells, the map terrain affects both mobs and towers (positively and/or negatively depending on the type of terrain), and the towers all work differently. This adds a good deal of extra strategy and puzzle solving than the average TD does. DelenarTD also has a daily challenge that consists of 1 attempt to play the randomly selected level of the day. The challenge has its own leaderboards that consists of the scores of that day and the overall accumulated scores from every day, as well as leaderboards for each level.
Features:
12+ hours of gameplay
24 Unique levels
8 Unique towers
9 Unique mobs
4 game effecting terrain tiles
2 damage shields
Daily Challenge / Leaderboards
Individual level Leaderboards
Much much more to come!
Find DelenarTD in Marketplace here.
Read more about the game at the Delenar website here.