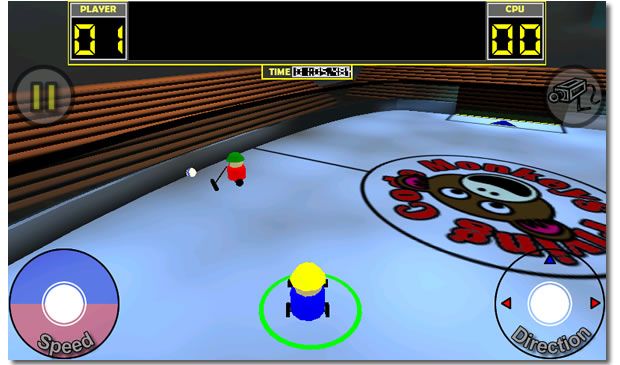 What happens when your standard broom pushing janitor 'bots decide to have a little fun in the rink after hours? Wild 3D BroomBot hockey action of course!
Take control of your 'bot as you battle in 3 different game types:
Survival: Score as many points as you can before the computer scores a goal.
Timed: Play a 3 minute match where the winner is crowned at the end.
Points: Be the first to score 5 goals in the quickest time.
It's a challenging and highly addictive game that you'll enjoy for hours, unlocking features for the game as you score more and more goals.
BroomBots 3D features:
Beautifully rendered real time 3D graphics
Opponent difficulty automatically adjusts to your success rate
Unlockables such as goalies, missiles, afterburners!
Customizable team colors
Leaderboards and achievements
3D Audio (best experienced with headphones or external speakers)
It's free, so give it a try! Scan the QR code or click here.
Take your biplane through low level canyon runs at dangerous speeds in Barnstormers, a 3D game now in the Marketplace.
Using the phone's accelerometer, tilt the phone to control the plane's pitch and roll as you navigate 20 maze-like canyons, each getting more difficult as you progress! As you make your run, you'll encounter desperate tanks trying to take you out, but fear not! You have UNLIMITED bombs, so blow things up! You're racing against the clock, but the quickest time usually doesn't put you at the top of the leaderboards. You gain points by dropping bombs on Skill Shots where your score increases the closer your hit is to the bullseye. Score hits on all the bulleyes and tanks hidden throughout each map, then race to the finish before time expires! Barnstormers features:
Beautifully Rendered 3D Graphics
3D Audio (best experienced with headphones or speakers)
20 unique canyons and caverns with more on the way
Achievements and Leaderboards through OpenXLive
UNLIMITED BOMBS!
Grab your copy today for just $1.99 with a free trial. Scan the QR code or click here.