Glean, last game of Loon Apps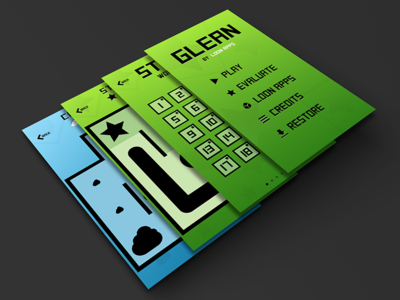 Glean is the last game of the start-up Loon Apps. Previous game was FlipSomeTiles and Tile Path.
In Glean, you collect with your the finger some objects scattered in colorful worlds.
To do that, draw a path with your finger from the starting point, and made the slide from box to box to collect all large objects. You can also collect all small object to get a "perfect".
Glean has 160 levels spread across 8 worlds. In trial, 40 levels are available.
To try Glean, find it in the Windows Phone Store here.
See a video demo after the break.
Engage your hyperdrive, and blast into this classic pinball game.
Play Vegas-style slots for FREE on Windows Phone!
Free, Live Tile support for Word Of The Day and so much more. Why NOT try it out?
Set up reminders with only two taps. Supports also text reminders and voice reminders.
Download the best puzzle game in WP7 Marketplace for FREE!
Air Soccer Fever - Realtime Online Multiplayer casual soccer game for FREE
Every day, get great app deals from Windows Phone developers pushed to you!
Quick Tiles, a fully featured live tile editor for Windows Phone.
MobileFax gives you the opportunity to send fax pages from your mobile phone anytime, anywhere !
Free birthdays app! Facebook integration, custom anniversaries, beautiful live tile.
54 Levels of FREE Tower Defense Fun!
Download NOW the best FREE puzzle game for Windows Phone and Windows 8 at www.marblie.com!
Newest devices leaks, online charts and ultimate performance benchmark for every Windows Phone.
Promote your app on WMPoweruser.com